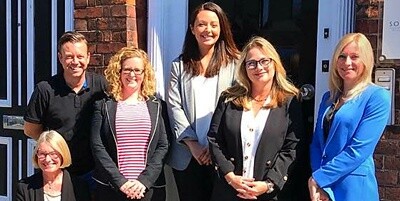 Solutions for HR
10 St Mary's Place
Bury
Lancashire
BL9 0DZ
Solutions for HR
Solutions for HR, 10 St Mary's Place, Bury, Lancs BL9 0DZ

We were recommended and introduced to Solutions for HR by a mutual client - We couldnt be happier with the service from initial engagement and onboarding to them now being part of the daya to day business. Incredibly responsive and knowledgeable. Spot on!

Very good service from jane and her team Would thoroughly recommend them.

Having a professional HR company to call upon whenever you need help or advice is essential these days. Solutions HR have proved to be a great resource for us, their friendly and professional manner is second to none. Nothing is too much trouble for the team, any concerns or issues we have are taken on board and dealt with professionally and in a timely manner. The regular monthly informative email we receive is well presented and full of up to date useful information. They offer great HR software (Breathe HR) at an affordable price, once you use it you will never want to be without it. If you are looking for a dedicated team of HR professionals then look no further, give Solutions HR a call, I'm glad we did.

Neale Hayward-Shott
18/05/2022
We've been using Solutions for HR for several years now. CHASE International isn't large enough for our own dedicated HR person so it's good to have a team that we can call that we have confidence in.

A lovely and professional company. Very knowledgeable!

Solutions for HR have dealt with every enquiry quickly and efficiently, which is important when you are a SME. I would thoroughly recommend them to anyone that doesn't have their own HR department

Massimo Picariello
13/05/2022
Solutions for HR have helped us tremendously over the years. Very professional, friendly and very knowledgeable.

Over the last few year, Solutions for HR have been a vital resource. They have been extremely helpful and supportive and provided us with all the advice and assistance we have needed. All enquiries are responded to very quickly which is great as this really helps resolve situations quickly. The newsletters are really handy, allowing us to stay up to date. Highly recommended. Thank you to Jane and the team

Great advice in a timely manner - I would certainly recommend

Solutions for HR offer a professional service delivered with a personal touch. I would definitely recommend this business.